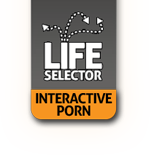 Join for $15.95 for 525 credits
or from $100.00 for 5250 credits!

LifeSelector is a unique kind of site that allows you to choose the girl that you want and what happens to her in the videos. You get to choose your own adventure and sexual experience.
What happens is that the site produces each video with different exciting scenarios that you can follow. Your work is just to match the different parts into the fantasy story that you like. The scenes may start with something simple like taking a girl for tea and talking to her after which you can watch her undressing. After that, you can choose whether she blows your dick and receive a cumshot or you stick your dick in her ass or you bang her pussy.
The videos are presented in POV style of course and you get to experience the porn as if you are the guy receiving the blow jobs and fucking the girls. An episode normally carries up to five scenes and you can follow many different routes/adventures to arrive to the happy ending that you want. This is a great and unique idea and it makes the blow jobs, hardcore pussy and ass fucking, threesomes and cumshots so much more exciting than what you see in the mainstream sites. I salute the guy who selects the girls to model here because he has done a marvelous job of picking the hottest pornstars and naturally beautiful babes across Europe. I also salute the camera guy for the amazing POV styles and the high resolution quality that he manages to achieve.
As for the viewing options, I think the site will need to include download options if they hope to get all the hardcore POV porn lowers to subscribe. Meanwhile, those who are okay with streaming videos online will have an amazing experience since the streams look great and they can be resized without losing clarity. But picture collectors will be disappointed since there are no photographs in sight here.
LifeSelector turns out to be a great option for those who want to enjoy POV hardcore movies in an entirely new level. There are over 210 episodes that you can enjoy here at the moment and each episode has different scenes featuring different kind of action and fantasy story to choose from.